The Palcoyo rainbow mountain, is a series of 3 mountains that are made up of green, red, blue, white and yellow colors. Is a mountain that by its colors and forms is similar to the Vinicunca (Rainbow Mountain Peru).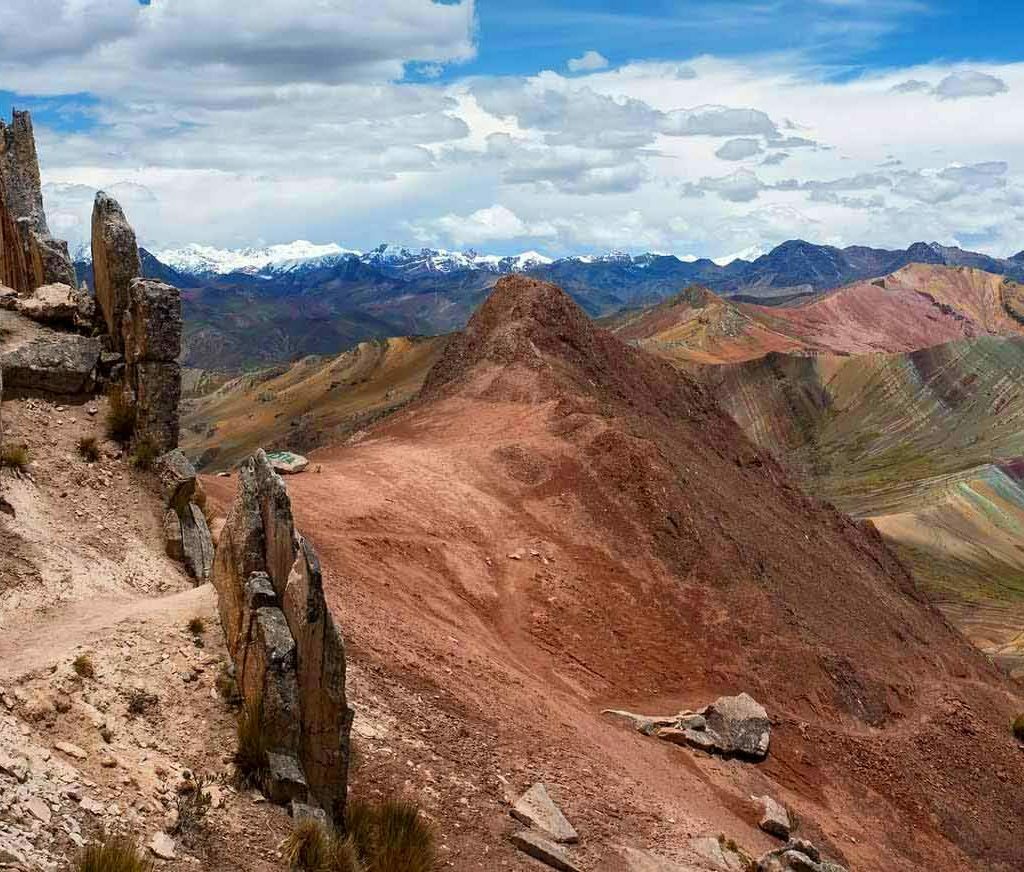 The Alternative Rainbow Mountain
Outside of Cusco there is a truly magical landscape of colorful painted mountains and broad red valleys in the Andes. Rainbow Mountain, also known as Vinicunca, has become something of a "must see" in Cusco's traditional tourist circuit, but is now besieged by hundreds of visitors every day who walk at altitude to get a single picture of the instagram. Few travelers realize that nearby there are in fact multiple rainbow mountains dotting this otherworldly landscape and that Palcoyo, an area of truly breathtaking beauty, can also be visited as a day trip from Cusco. Known as the "alternative rainbow mountain", Palcoyo sees far fewer visitors and requires far fewer uphill hikes, making it a great way to admire the natural wonders of Peru without having to fight for the best viewpoint.
Palcoyo Rainbow Mountains
Palcoyo is a long drive from Cusco – three and a half hours in one direction on mostly bumpy, unpaved roads – but the rewards are the views of the snowy peak of the Apu Ausangate, the grazing scenes of Quechua-speaking shepherds tending their llamas and alpacas grazing on the land, and the breathtaking multi-tonal mountains without the crowds. Unlike Rainbow Mountain, where backpackers leave Cusco as early as 2.30am to beat the crowds, Palcoyo has a much more reasonable recommended start time of around 7am. With only a handful of visitors a day visiting this high altitude landscape, there is still no sign of over tourism. And, although tourism is still in its infancy, the local community has already organized the basic infrastructure to receive visitors.
Things to do and see near to Palccoyo
Before arriving at Palccoyo Mountain, you can visit several interesting places, just ask your agency if possible
On the way to Palccoyo mountain we can find Checacupe church, which is a colonial heritage site, has an impressive decoration inside.
Another place of interest in the same town of Checacupe, there are 2 bridges, 1 is the colonial bridge and the other is a replica of the Inca bridge.
How is the trek to Palccoyo Mountain?
The Trek here in Palcoyo turns out to be relatively short and smooth to reach the marked views, but at the altitude it requires some effort on the slopes. This contrasts with the day trip to Rainbow Mountain, which has a very challenging ascent. The trek at Palcoyo was interrupted by the various views, including the three rainbow-colored mountains and the panoramic views of the Red Valley. Although the excursion to Palcoyo counts as a "trekking", as an enthusiastic hiker it seemed more like a photographic expedition with some walking involved, than a real excursion, as it was impossible not to stop repeatedly to admire the view and take some pictures of the landscape. That said, if you never do a normal hike, then keep in mind that there are some hikes involved and, because of the altitude, anyone (even the fittest!) will be sure to notice the thinner air on the uphill stretches. If you are adventurous, you can choose to climb the short but steep optional trail to the "Stone Forest", where the overhanging rocks seem to have landed on another planet. It is worth the climb.
In total, you will spend about 3 hours walking around Palcoyo and taking many pictures of the different colored mountains, but this time will depend a lot on your pace and how long you stop to take pictures. On average, you will probably need about two and a half hours to walk and take pictures. You walk about 4.5 km on average, and stop and take pictures. All the agencies have organized a lunch, so if you hire them, don't worry you will have a buffet lunch.
Recommendations for tour or trek
If you are interested in visiting Palcoyo Rainbow Mountain, keep in mind that it is at an altitude, so you will require acclimatization before visiting it. As Palcoyo is located southeast of Cusco, it is best to visit Machu Picchu and Cusco first, giving you time to adapt to the mountain air. Since this trip is all about the amazing views, it is also much better to visit in the dry season – otherwise the relative effort to get here (the long drive) simply won't be worth it for the cloudy, foggy or snowy views.
Wear hiking boots that make it easy to get up on the rocks and explore a little more – otherwise, comfortable walking shoes or decent sneakers would be enough. The cold winds of the Andes Mountains meant that even when the sun was shining brightly, you could feel a chill in the air when the wind picked up, so wearing a proper windbreaker was essential for comfort. Wearing layers is the best way to deal with weather that can change quickly.
Alternatives treks to Rainbow Mountains in Cusco
Given the incredible views, a day trip does not do this landscape justice. You can visit Palcoyo as a day trip, but a recommended trek would be around Ausangate, which consists of several days, including visiting impressive glacial lakes, bright red valleys, mountains, snow and picturesque landscapes. For example, you can do a walk from hostel to hostel starting with only two days and one night in this region, taking the Rainbow Mountain with a careful route to avoid the crowds that is not possible if you visit it with one day. There are also longer routes from hostel to hostel such as the five day and four night Ausangate Trek.
Palcoyo vs Vinicunca
Many say that the Vinicunca mountain and the Palcoyo Cusco mountain range are very similar, but one landscape can never be identical to the other, the difference always exists either in temperature, altitude, beauty of the landscape or other, because each landscape is composed of a multitude of essential elements without comparing their small details that sometimes tend to be the most significant.
Here are 3 facts about Palcoyo vs Vinicunca:
The popular mountain Vinicunca due to its majestic and amazing colors is one of the favorite destinations visited in the city of Cusco, so Vinicunca will probably be more crowded with tourists than the beautiful isolation of the Palcoyo, know that the Palccoyo is a recent walk that not many explore.
Both hikes require some physical effort, but remember that hiking will make your experience unique and help you connect with nature. Hiking can also help you connect deeply with yourself, Vinicunca is more hard than Palcoyo.
Vinicunca might not allow the experience of self-reflection, peace and contemplation along the way as you will be walking along with other groups hoping to reach the top for its incredible views. On the other hand, Palcoyo offers you unique colorful views and the best. You will feel like the king of the mountain because there are not many tourists to do the Palcoyo mountain hike.