Salkantay Trek Elevation – Altitude, Distance
The Salkantay Trek elevation and distance is very different every day and the standard route of Salkantay Trail is the northeast mountain range. Access to the route usually involves three days of hike from the city of Cusco.
The hike involves about 1,800 m (5,900 feet) of vertical gain, in glaciers, snow, ice and some rocks.
Read more about Salkantay Trek Difficulty.
We are not going to climb to the top of Salkantay Mountain or Salcantay, but hike the Salkantay Trek 5 days / 4 nights, that's why we write details for the salkantay trek elevation and distance, because we consider very important for you to read and know this information.
Salkantay Trek Distance
If your are in good physical conditions, distances in this trek will be ok for you, check the information below to have an idea about it.
Day 1: From Mollepata to Salkantaypampa is 15 Km (9.32 miles)
Day 2: Salkantaypampa to Collpapampa is 22 Km (13.67 miles)
Day 3: Collpapampa to La Playa is 16 Km (9.94 miles)
Day 4: from La Playa to Aguas Calientes or Machu Picchu Village is 19 Km (11.81 miles)
Day 5: from Aguas Calientes to Machu Picchu is only 4 Km (2.49 miles)
Total Trek Distance : 76 Km (45.98 miles)
Salkantay Trek Altitude
The altitude of our 5 days trek goes from 7,986 ft to 15,090 ft and each day during the trek the altitude change a lot because we are in the Andes.
First Day: Mollepata Elevation is 9,515 feet / 2900 meters and Soraypampa Campsite is 12,631 ft / 3,850 meters.
Second Day: Highest Elevation is in Salkantay pass 15,090 ft / 4,600 meters. Challway is 9,842 ft / 3,000 meters.
Third Day: Santa Teresa campsite is 7,055 ft / 1,811 meters.
Fourth Day: Aguas Calientes is 7,986 ft /2,050 meters.
Fifth Day: Machu Picchu is 7,972 ft / 2,430 meters and Huayna Picchu is with 8,924 ft / 2,720 meters.
Highest Elevation: Salkantay pass (15,090 ft)
Lowest Elevation: Aguas Calientes (7,986 ft)
Salcantay Elevation, Distances and Altitudes Map
This is the highest point of the Salkantay Trek 5 days trail to Machu Picchu, is called Salkantay Pass, the elevation is 15,090 ft above sea level.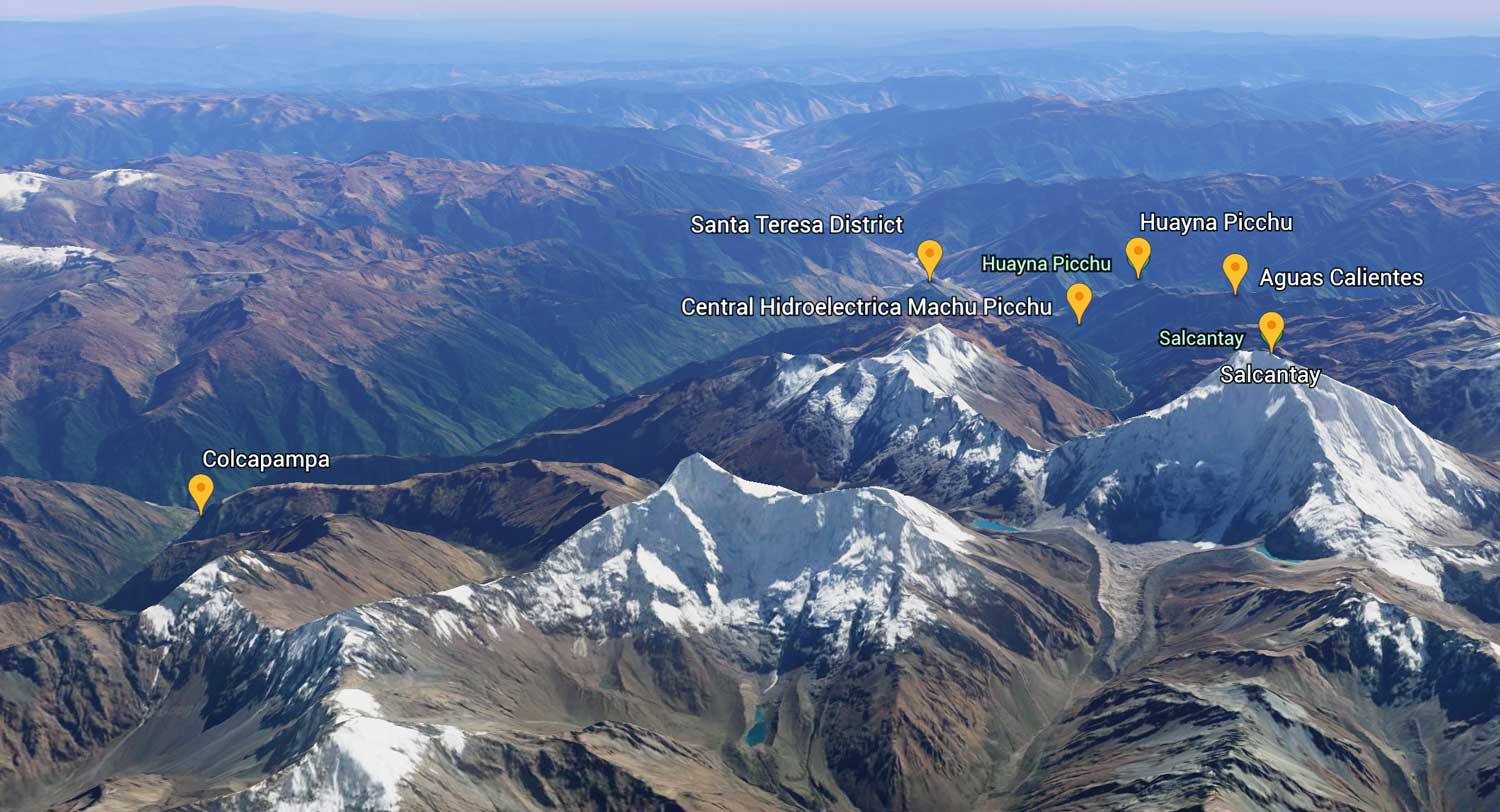 Don't worry about the elevation in this trek, why? Because The agencies have first-rate equipment and security protocols that guarantee that you will be well and will not give you the best advice you should follow in case of emergencies.
Want to know more about Altitude? Check this video below.