In the heart of the Sacred Valley lies the picturesque town of Ollantaytambo, a place steeped in historical significance. This town was once a pivotal outpost for Incan nobility and laborers during the reign of Pachacutec, the 9th Inca king who orchestrated the transformation of the Cusco Kingdom into the formidable Inca Empire. Unlike its counterpart, Machu Picchu, Ollantaytambo's history is richly documented, offering a fascinating narrative.
One of the most crucial chapters in Ollantaytambo's history unfolded when the rebel leader Manco Inca sought refuge here, culminating in the famous Battle of Ollantaytambo in 1537. To thwart the Spanish onslaught, Manco Inca ingeniously ordered the construction of a river dam, flooding the valley, while utilizing the terraces as advantageous high ground. Though the rebel forces eventually retreated, the legacy of Ollantaytambo endured, transitioning from Incan stronghold to a Spanish colonial settlement.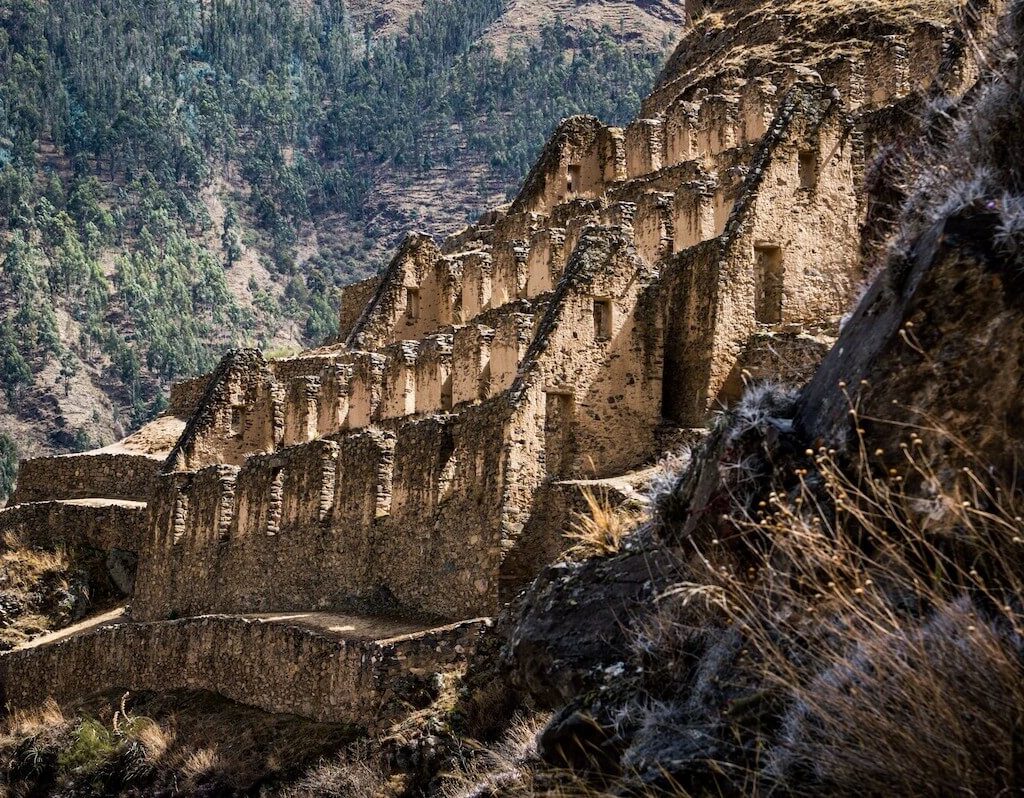 Architecture: Where Majesty Meets Functionality
The architectural marvels of Ollantaytambo are nothing short of awe-inspiring. The town is divided into two distinct sectors: residential and administrative, each showcasing a fusion of exquisite stonework and ingenious agricultural engineering. This unique synthesis places Ollantaytambo in contention as one of the most sophisticated Incan constructions.
Scholars long debated whether this site was primarily a fortress or a regal resting place for Incan royalty en route from Cusco to Machu Picchu. The sheer quality of stonework leans towards the latter, suggesting a place of profound significance beyond mere defense.
What to See: Unearthing the Treasures
The Town
Ollantaytambo's urban layout unveils a meticulously planned grid design, with a central square at its core. While the southern section boasts polished stonework, the northern side displays a more weathered facade. Residential buildings adhere to a consistent blueprint, featuring central courtyards, one-room structures, enclosed compounds, and communal spaces known as "canchas."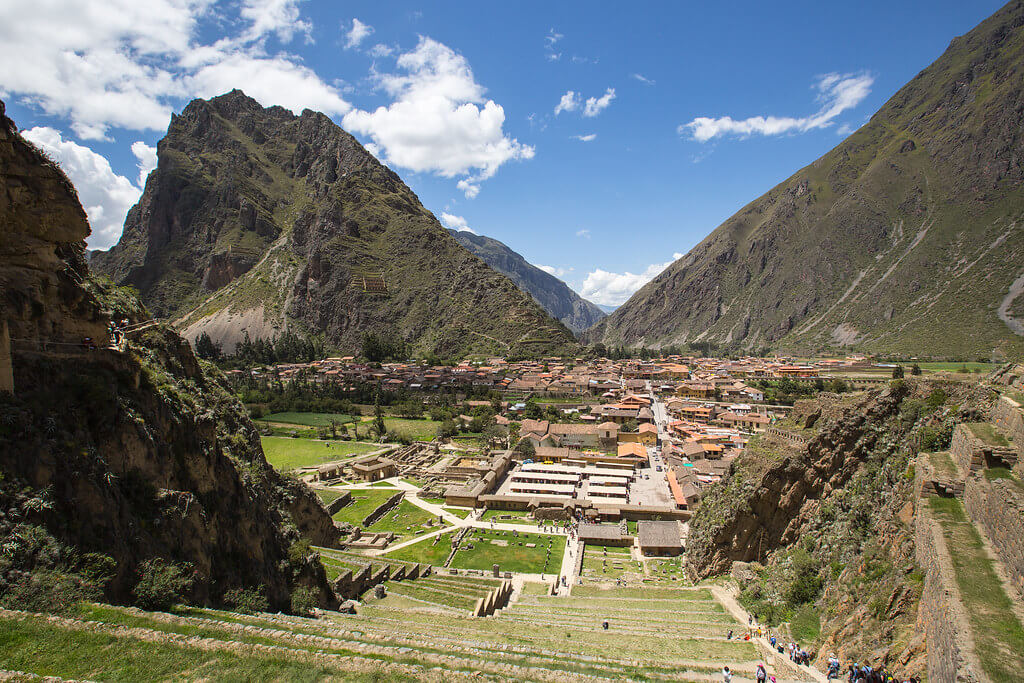 The Temple of the Sun
Perched in the area known as Aracama, the "Temple of the Sun" crowns a pyramid of seventeen terraces overlooking the main square of Manyaraqui. Ascending to the top requires care, especially during rainfall, as the stones may become slippery. Though time and looting have eroded its grandeur, six monoliths stand testament to its former glory.
The Terraces: A Triumph of Agrarian Ingenuity
The ubiquitous terraces of Ollantaytambo bear witness to the remarkable feats of early agrarian engineering. Stretching nearly 2,300 feet in length, 190 feet in width, and 50 feet in depth, these terraces showcase polished stonewalls strategically positioned to harness solar energy. This microclimate sustains crops from lower altitudes, attesting to the ingenuity of ancient civilizations.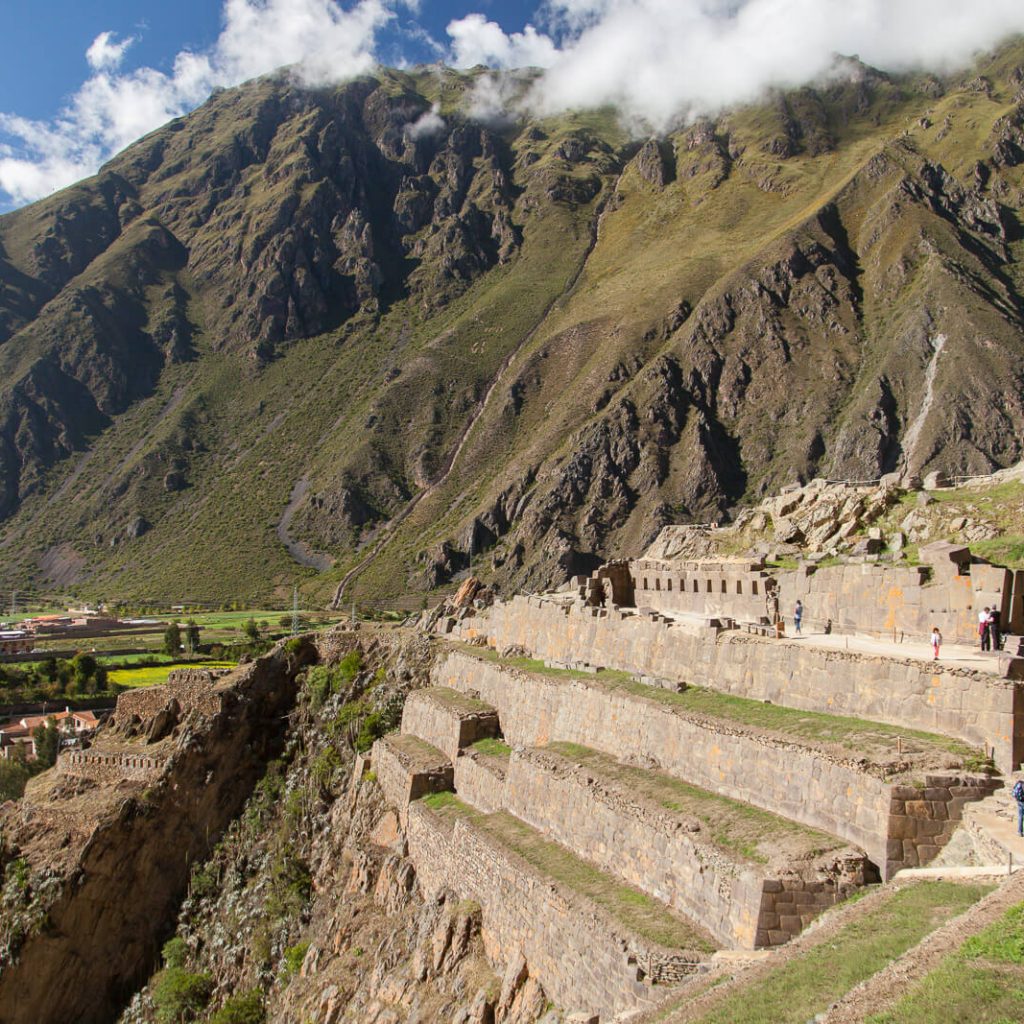 Bonus Sites: Off the Beaten Path
Beyond its renowned landmarks, Ollantaytambo serves as a springboard for exploring hidden gems. Cachiccata hacienda offers a glimpse into abandoned quarries, while Pinkuylluna hill reveals a natural formation evoking the visage of a deity. Adventurous souls may scale the hill for breathtaking vistas. Pumamarka, an ancient urban site, and Yanacocha lagoon, a vital water source, offer further avenues for exploration.
How to Get There
Two routes link Ollantaytambo to Cusco: Route 3S via Chinchero and a high plateau, and Route 28B through Pisac and the Sacred Valley. Both converge in Urubamba, leading to Ollantaytambo. Weather permitting, a direct transfer takes approximately 1.5 hours. For the final leg to Machu Picchu, trains are the sole option.
Tours to Ollantaytambo
Book now!
Sacred Valley and Machu Picchu 2 Days
Where to Eat: A Culinary Expedition
Ollantaytambo hosts an array of dining options, catering to diverse tastes and budgets:
El Albergue: Exemplifying contemporary Andean cuisine, this restaurant offers a culinary journey within an elegant setting.
Chuncho: Showcasing traditional dishes with locally sourced ingredients, Chuncho delivers a flavorful experience rooted in the region's culinary heritage.
Apu Veronica: This charming eatery blends international and Peruvian flavors, offering a panoramic view to complement its delectable fare.
Puka Rumi: A spacious rustic restaurant, Puka Rumi presents an extensive menu of international dishes at affordable prices.
Where to Stay: Resting Amidst History
Ollantaytambo boasts a selection of comfortable accommodations, ensuring a rejuvenating stay:
El Albergue Hotel: Dating back to 1929, this vintage establishment combines old-world charm with modern amenities, offering a unique experience on the train tracks.
Pakaritampu Hotel: A modern gem with expansive lawns and gardens, this four-star hotel provides a contemporary retreat just minutes from the train station.
Hotel Sauce: Centrally located near the Plaza de Armas, this property affords unrivaled views of the ruins, making it an ideal base for explorations.
Best Time to Visit: Navigating the Seasons
Ollantaytambo welcomes visitors year-round, yet it's essential to consider the distinct rainy and dry seasons. The rainy period, from November to March, reaches its zenith in January and February. In contrast, the dry season, spanning April to October, offers optimal conditions for exploration.
Plan Your Journey: Crafting Your Peru Experience
If Ollantaytambo has captured your imagination, embark on the journey of a lifetime through Peru's rich tapestry of history and culture. Our experts stand ready to tailor a bespoke itinerary, ensuring an unforgettable exploration of this ancient Incan bastion.