The Palccoyo Rainbow Mountain, are a set of 3 mountains that are made up of different shades of green, red, blue, white and yellow colors. This gives them a similar aspect to the Vinicunca Mountain or better known as Rainbow Mountain Cusco.
Unlike the Montaña de 7 Colores or ArcoIris (Vinicunca) which is located at a higher altitude (17,060ft), Palcoyo (4900 masl) is easily accessible and does not require much effort to reach. Visiting this mountain only requires a gentle one hour hike with no inclines, which makes it a less demanding alternative to the hike to the 7 Colors Mountain called Vinicunca that is located at more than17,000ft.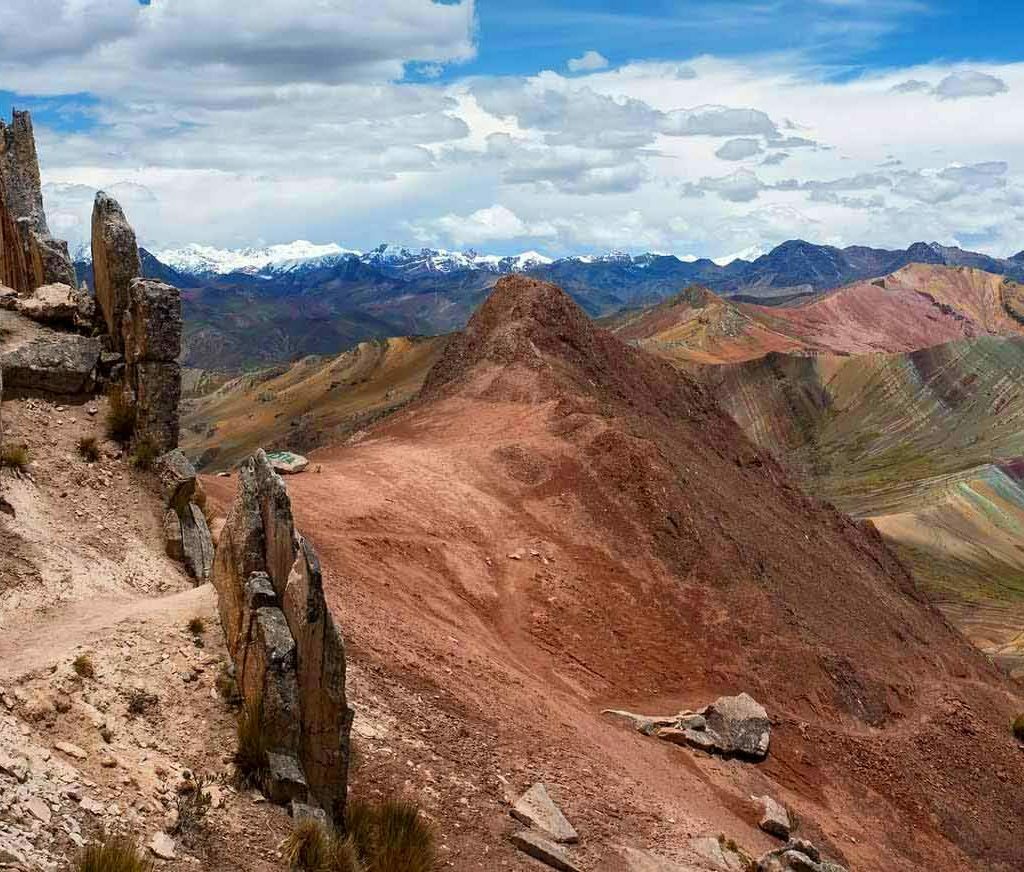 Detailed information about Palccoyo Rainbow Mountain
Distance by car from Cusco to trek start: (76 miles / 125 km)
Travel time: 4.5 hours each way including a stop for breakfast, 1 hour each way and 4 hours each way including a stop for lunch.
Entrance fee: $ 6.00 USD per person (S./ 20 PEN).
Altitude at the beginning of the hike: (15,400 feet / 4,700 masl.)
Difficulty: Easy to medium.
Trail to Palcoyo: Dirt road at the beginning, then there is a paved trail to the last viewpoint on the mountain. Most of it is flat with a gradual ascent. Then up to the top, the site of the stone forest.
Trail to stone forest: It is a zigzag trail of about 200 meters for the 20 minute hike.
Distance on foot: (2,5 ML / 4 KM round trip)
Horse rental: Not available.
Hiking time: The hike to the last viewpoint (with some breaks along the way) takes about 45 minutes. The return to the bus station takes 30 minutes.
Tipping: Occasionally, locals appear on the trail, walking with an alpaca and offering a photo opportunity. In return, they only want a tip.
Maximum altitude: (16,076 feet / 4,900 masl.)
Average tour duration: 10 hours
Elevation gain during the hike: (656 ft / 200 m).
Best season: April to September, although you can visit every day of the year.
Where is Palccoyo?
The mountain of Palccoyo is located in the Vilcanota mountain range, in the District of Pitumarca, province of Canchis, south of Rainbow Mountain Cusco.
How to get to Palcoyo Rainbow Mountain?
From the city of Cusco we must travel by car about 3 hours to the south-east, towards the District of Combapata. Before arriving at the village, you must turn left, just where the Checacupe bridge is located (if you are not sure just ask the locals, they will kindly guide you).
Here is the suspension bridge made by the Incas to favor the connection of the Inca Empire. Then follow the dirt road for about 1 hour until you reach the parking lot to start the hike.
Map of how to get to Palcoyo mountain on your own.
From the parking lot you can already see the colorful mountains, but if you want to have a better view, at a slow pace you can reach the viewpoint of the Cordillera de Colores Palcoyo in 45 minutes.
If you go on your own, you will have to pay your entrance fee to the colorful mountain at a control booth that you will find about 10 minutes before the beginning of the hike. In this same place you can find restrooms that have a cost of 1 nuevo sol (S/. 1.00). You can also buy snacks, water, fruits and sweets.
The Palcoyo mountain is the perfect destination for tourists and families who have older adults and children and who know that they can not reach the 7 Colors Mountain, comparing, in the hike to Palcoyo we can take about 45 minutes to get there and return in 30 minutes, while for Vinicunca it would take us about 2 hours to climb and 1 hour to return.
Map of how to get to the Palcoyo mountain on your own
What to do and see at Palcoyo Mountain?
From the beginning of the hike you will find mountain ranges of different shapes, sizes and colors that will leave you with your mouth open. The hike, which lasts about 45 minutes, will take us to the Palcoyo lookout point where we can take a closer look at this attraction.
Another attraction that we can find in the mountain of Palcoyo is the Forest of Stones, which can be reached from the viewpoint of the third mountain.
To reach the forest of stones that is located at about 4900 meters above sea level, you will have to walk a few minutes more, the walk is light and does not demand much effort. From here we can observe and contemplate in a 360º view the 3 mountains of Palcoyo, besides observing the Ausangate mountain that will be covered with snow.
Another thing we can do is to take pictures with the locals who are dressed in typical costumes and alpacas, we will only have to give a tip and we will have unique photos of this place.
Another attraction that we can find is the Red River, which can only be seen in the rainy season, which is from November to March.
Where to eat in Palccoyo Rainbow Mountain?
The best option may be to take food with you from Cusco, but you can find along the road several tourist restaurants where you can have lunch.
You can also find small food stalls next to the parking lot, but remember, you must have a good stomach to eat and be careful that the food does not spoil you.
The Palccoyo mountain range
As in the Rainbow Mountain Cusco, an extraordinary geological process aligned the different strata of the earth in layers of multicolored layers creating a unique effect.
From the Palcoyo viewpoint you can see the 3 colorful mountains in all their magnitude and solitary immensity. In the same place there is a curious forest of stones, which as its name suggests, are rocky peaks the height of trees that look like a real geological labyrinth.
Flora and fauna
For many tourists, this place is a place that leaves them with their mouths open, the presence of alpacas and llamas that are in the mountains make a unique and beautiful landscape.
Llamas and alpacas in large numbers are the main inhabitants of these mountains. They do not live in the wild, but are raised by the inhabitants and serve as a means of subsistence. There are also foxes and chinchillas, which appear rarely, and birds, such as Cara Cara, Huallatas and other small birds, etc.
As for the vegetation of the mountain of Palcoyo and its surroundings, we can mention the abundance of straw and grasses that constitute the food of the camelids, as well as some cactus and all kinds of herbs and flowers that grow at ground level at over 4500 meters above sea level.
How was it formed?
During the formation of the earth's stratosphere, minerals falling under their own weight formed layers on top of each other and in the transformation of the earth with earthquakes and tectonic plate movements.
Sedimentary layers were formed on mountains and slopes, exposed to the elements, and it was from there that, over time, the oxidized minerals gave attractive shades of color, as we see them today.
What colors make up Palcoyo Mountain?
The colors that make up the Palcoyo mountain are similar to Vinicunca, these are:
Fuchsia pink Mixture of red clay, osfango and reana.
Whitish quartz sand and limestone.
Purple or lavender Mixture of clay and calcium carbonate and silicates.
Red clays and clay.
Green clays rich in iron magnesium, (mixture of iron and magnesium and copper oxide).
Yellowish brown, mustard, golden sulfurous calcareous sandstones combined with sulfur.
Climate – Weather
In the mountain of Palccoyo and in all of Cusco there is a climate divided in 2 throughout the year, which we will detail below:
The rainy season
From December to March, in this season the Palcoyo is usually covered with dense fog, accompanied by snow and hail, but also the weather some days is better and you can enjoy the Palcoyo mountain.
The dry season
Includes April through November. Between these months it is mostly sunny so Palcoyo Mountain can be seen more clearly.
When does it snow in Palcoyo Mountain?
Knowing this is crucial, the behavior of the weather in the area where Palcoyo Mountain is located. The snow seasons are usually in the rainy season of the Peruvian Andes, which is considered between November and April, but you have to be careful.
The weather is usually variable at this altitude of 4,000 meters above sea level, so there can be an untimely and unexpected snowfall in early November or after April.
Best time to go to the Palcoyo Rainbow Mountain
As we know, the best time to go to Cusco and Palcoyo is in the dry season, from April to October. Although you can go in the other months, but keep in mind that you have high chances of seeing the mountain covered with snow.
Palccoyo Mountain, Vinicunca and Red Valley
| DESCRIPTION | VINICUNCA | PALCCOYO | RED VALLEY |
| --- | --- | --- | --- |
| Type | Mountain | Mountain | Valley and Mountains |
| Altitude | 17,060 ft | 16,076 ft | 16,076 ft |
| Difficulty | Medium – Difficult | Easy | Medium |
| Visitors | Many visitors | Few visitors | Few visitors |
| Nearby attractions | Red Valley, Ausangate and surrounding lagoons | Forest of stones, Red River of Cusco | Vinicunca |
Many say that the Vinicunca mountain and the Palcoyo Cusco mountain range are very similar, but one landscape can never be identical to the other, the difference always exists either in temperature, altitude, beauty of the landscape or other, because each landscape is composed of a multitude of essential elements without comparing their small details that sometimes tend to be the most significant.
Here are 3 facts about Palcoyo vs Vinicunca:
The popular mountain Vinicunca due to its majestic and amazing colors is one of the favorite destinations visited in the city of Cusco, so Vinicunca will probably be more crowded with tourists than the beautiful isolation of the Palcoyo, know that the Palccoyo is a recent walk that not many explore.
Both hikes require some physical effort, but remember that hiking will make your experience unique and help you connect with nature. Hiking can also help you connect deeply with yourself, Vinicunca is more hard than Palcoyo.
Vinicunca might not allow the experience of self-reflection, peace and contemplation along the way as you will be walking along with other groups hoping to reach the top for its incredible views. On the other hand, Palcoyo offers you unique colorful views and the best. You will feel like the king of the mountain because there are not many tourists to do the Palcoyo mountain hike.
Palccoyo Rainbow Mountain and Red River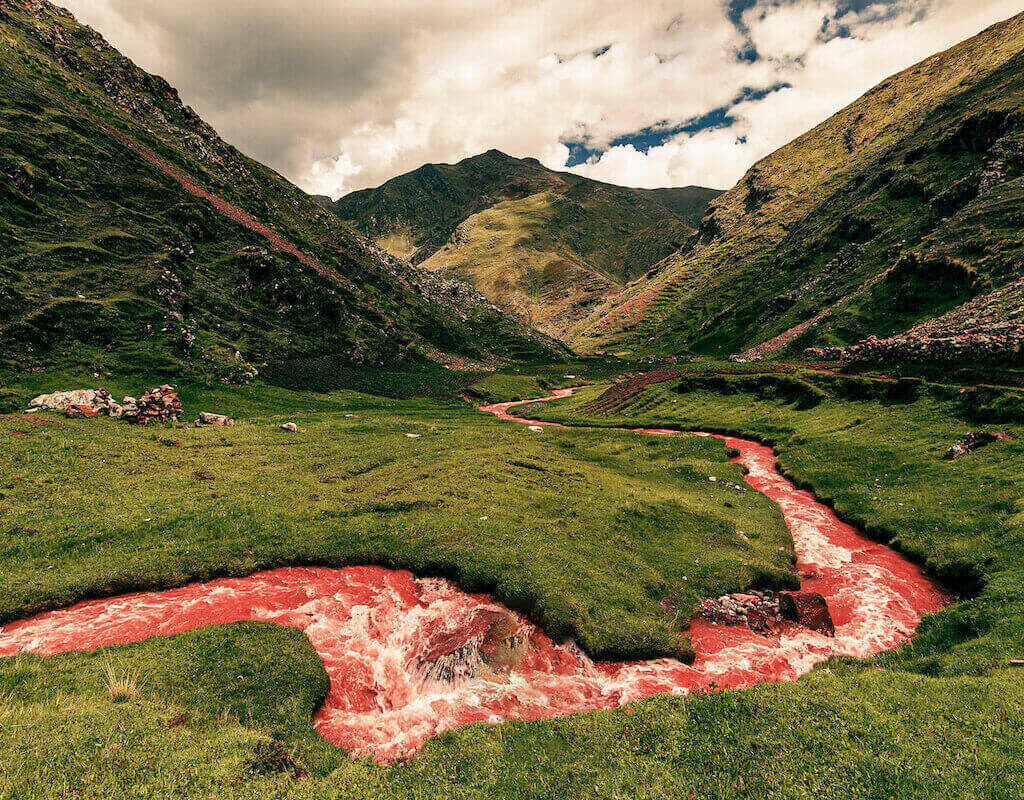 If you are wondering what the Red River has to do with Palcoyo, you will see that it has a lot to do with Palcoyo.
In the rainy season, when it rains and snow falls, the water begins to soak the red colors of the mountains and accumulate dirt and that makes the river red.
The red river comes from various mountain ranges and makes an extraordinary effect that you will never forget in your life, those who visit the 7 color mountain have a great opportunity to see this attraction that occurs only in the rainy season (November to March).
Recommendations for tour or trek
If you are interested in visiting Palcoyo Rainbow Mountain, keep in mind that it is at an altitude, so you will require acclimatization before visiting it. As Palcoyo is located southeast of Cusco, it is best to visit Machu Picchu and Cusco first, giving you time to adapt to the mountain air. Since this trip is all about the amazing views, it is also much better to visit in the dry season – otherwise the relative effort to get here (the long drive) simply won't be worth it for the cloudy, foggy or snowy views.
Wear hiking boots that make it easy to get up on the rocks and explore a little more – otherwise, comfortable walking shoes or decent sneakers would be enough. The cold winds of the Andes Mountains meant that even when the sun was shining brightly, you could feel a chill in the air when the wind picked up, so wearing a proper windbreaker was essential for comfort. Wearing layers is the best way to deal with weather that can change quickly.
Alternatives treks to Rainbow Mountains in Cusco
Given the incredible views, a day trip does not do this landscape justice. You can visit Palcoyo as a day trip, but a recommended trek would be around Ausangate, which consists of several days, including visiting impressive glacial lakes, bright red valleys, mountains, snow and picturesque landscapes. For example, you can do a walk from hostel to hostel starting with only two days and one night in this region, taking the Rainbow Mountain with a careful route to avoid the crowds that is not possible if you visit it with one day. There are also longer routes from hostel to hostel such as the five day and four night Ausangate Trek.
Recommendations for visiting Palccoyo
As it is located at 4,900 meters, the risk of suffering from puna is always present. However, as the hike is irregular and lasts a maximum of one hour, most travelers (regardless of age) will have no problems.
Spend about 2 days before in Cusco, to acclimatize.
Warm clothing.
Light windbreaker jackets.
Hat.
Sun block.
Sunglasses.
Water.
Frequently Asked Questions
How high is Palccoyo rainbow mountain in cusco
The Palccoyo Rainbow Mountain in Cusco is located at 16,076 ft.
Best time to visit Palccoyo rainbow mountain

The best time to visit and see Palccoyo is from April to September.
Alternative rainbow mountain of Palccoyo

The first alternative is Rainbow Mountain Cusco.