Vinicunca is a mountain pass located about four hours by car southeast of the city of Cusco, in the opposite direction of Machu Picchu, the Inca Trail and the famous Humantay Lake. Most commonly known by locals as Montaña de Siete Colores (the Mountain of Seven Colors) and by travelers around the world as Rainbow Mountain Perú or Vinincunca Mountain, the geographic wonder is famous for its rainbow coloring, a surreal natural phenomenon of mineral deposits scattered throughout the sandstone rock.
In an area that is said to have one of the most impressive mountain landscapes in the Andes, Vinicunca is close to Ausangate, the highest and most sacred mountain in the Cusco region.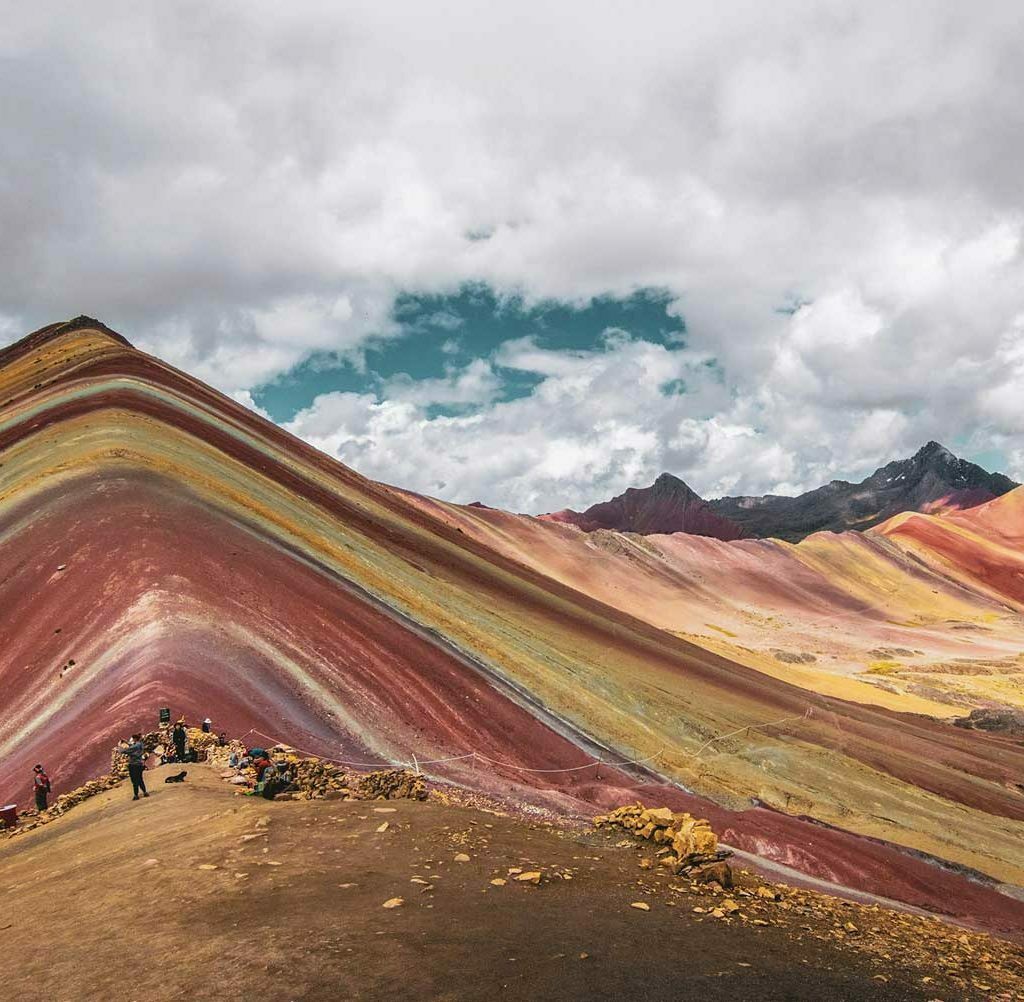 A hike to Vinicunca or Rainbow Mountain Peru
Visit Vinicunca, the "Mountain of the Seven Colors", located in the Andes of Cusco.
Walk to the highest point of Rainbow Mountain, where you will enjoy incredible panoramic views of Ausangate
Get a personalized experience with an excellent local expert and a professional trekking guide.
Tour to Rainbow Mountain Peru
Full Day to Vinicunca
By Explorape
Enjoy all landscape around the Rainbow Mountain in Cusco
Red Valley + Vinicunca Full Day
By Explorape
Visit Vinicunca and Red valley in Cusco in a full day tour.
Where is located the Rainbow Mountain?
As part of the Vilcanota mountain range, it is located in the middle of the Cusipata and Pitumarca communities, in the provinces of Quispicanchi and Canchis respectively, in the Cusco region of southern Peru.
Its exact coordinates are as follows:
13 ° 52'8.51 ″, south latitude.
71 ° 18'12.76 ″, latitude west.
You can find the exactly point in google maps or other maps using the above coordinates.
How long does it take to reach the Rainbow Mountain from the city of Cusco?

It depends on the route you choose (there 2 main routes):
Route 1: If you travel through Cusipata, you will drive 102 km for 3 hours until you reach Phulawasipata. From there the walk will take 1 hour to Rainbow Mountain.
Route 2: If you travel through Pitumarca, you will drive 139 km for 4 hours until you reach Pampachiri. From there the walk will take 1 hour and 20 minutes to Rainbow Mountain.
Ultimate recommendations to visit Rainbow Mountain
Follow our recommendations to enjoy the majestic Rainbow Mountain without problems.
Visit the mountain during the dry season, that is, from April to November.
Stay in good health and in excellent physical condition.
Bring a hat, special walking shoes, warm clothes, sunglasses, walking sticks and a rain poncho.
This walk is not suitable for children under 12.
Remember that in order to avoid altitude sickness you must spend a minimum period of 2 days in the city of Cusco for acclimatization. Drink plenty of liquids and avoid alcohol and cigarettes.
What is the best time to visit?
The best time of year to visit is in the dry months, which is from April to October. This does not mean that you cannot visit it in the other months of the year, only that the visit and the experience are guaranteed in the dry months.
What should I take to the Rainbow Mountain Cusco?
To know exactly what you should bring, consider that you will leave the city and walk in the cold and at high altitude. Some indispensable things are:
Your original passport or other official identification document.
Cash in small denominations for any unforeseen expenses.
Sunscreen, sunglasses, hat or cap and a waterproof poncho.
Special hiking shoes, hiking pants, jacket, windbreaker and gloves.
Camera with extra batteries.
Water and snacks.
Coca leaves to fight altitude sickness and invigorate you.
What is the difficulty level of the excursion?

The level of difficulty of this route is challenging. Most of the trail is in good condition; however, you must climb an intense slope towards the end, thus exceeding 5,000 meters above sea level.
Remember that you will be walking at high altitude and that you may suffer from altitude sickness. The higher you go, the less oxygen there is in the air. So you will feel your breathing a little shaken.
Due to all this, to fully enjoy this excursion you must be in excellent physical shape and have gone through a process of acclimatization. That is why we recommend that you arrive in Cusco 2 days in advance to avoid the uncomfortable symptoms of altitude sickness: strong headaches, nausea, vomiting and diarrhea.
There is always the option of renting the service of a horse that can take you. The approximate price is S/. 50.00 soles one way and S/. 90.00 soles round trip.
What kind of flora and fauna you can find at Vinicunca?
During your hike to Rainbow Mountain you will reach the two highest altitude levels in Peru: the Puna and the Janca, where no animal species lives permanently. Above 5,000 meters, few things grow, but you will be able to see the ichhu, a type of straw that serves as food for alpacas, llamas and vicuñas. You will also be able to see kestrels and if you are lucky, some majestic condor will open its wings…