The Red Valley in Cusco – Peru, is a new tourist attraction that is very close to the famous Rainbow Mountain, is an impressive place, and the best thing is that few people visit it.
What is the Red Valley of Cusco?
It is a valley of red mountains dotted with green and gray, giving it a look that seems like another planet. The view is endless. It is a very quiet place, since few tourists visit it, and that makes it a pleasant visit.
Many tourists, when they take the tour to the 7 color mountain, choose to return through this valley and thus visit the 2 places.
Location
It is located in Cusco – Peru, very close to the Vinicunca, the mountain of 7 colors.
How to go to the Red Valley?
The best way to get to this incredible place is by doing the extension of the 7 color mountain tour, it will depend on your agency the additional cost they give to this tour.
Best time to go to the Red Valley of Peru
At an altitude of about 5000 meters above sea level, the climate is harsh, even in the well-defined seasons, which are: Rainy and dry seasons.
But, the best months are from April to the beginning of October, which is the dry season, and the other months (October to April), the climate is very changeable, many times you will not be able to access the red valley in Peru for security reasons.
During the rainy months, some days, the mountain may be covered with snow, but this makes for some incredible views of the Red Valley and Vinicunca, so, don't be discouraged by the blogs that say you will only see snow and clouds.
What to bring
As with a visit to Rainbow Mountain, be sure to be prepared for the altitude. Try to acclimatize before you go. Flying from Lima to Cusco and walking to 5100m the next day is not a good idea. Also, take your altitude pills already in Cusco so that they work once you arrive and bring some extra ones.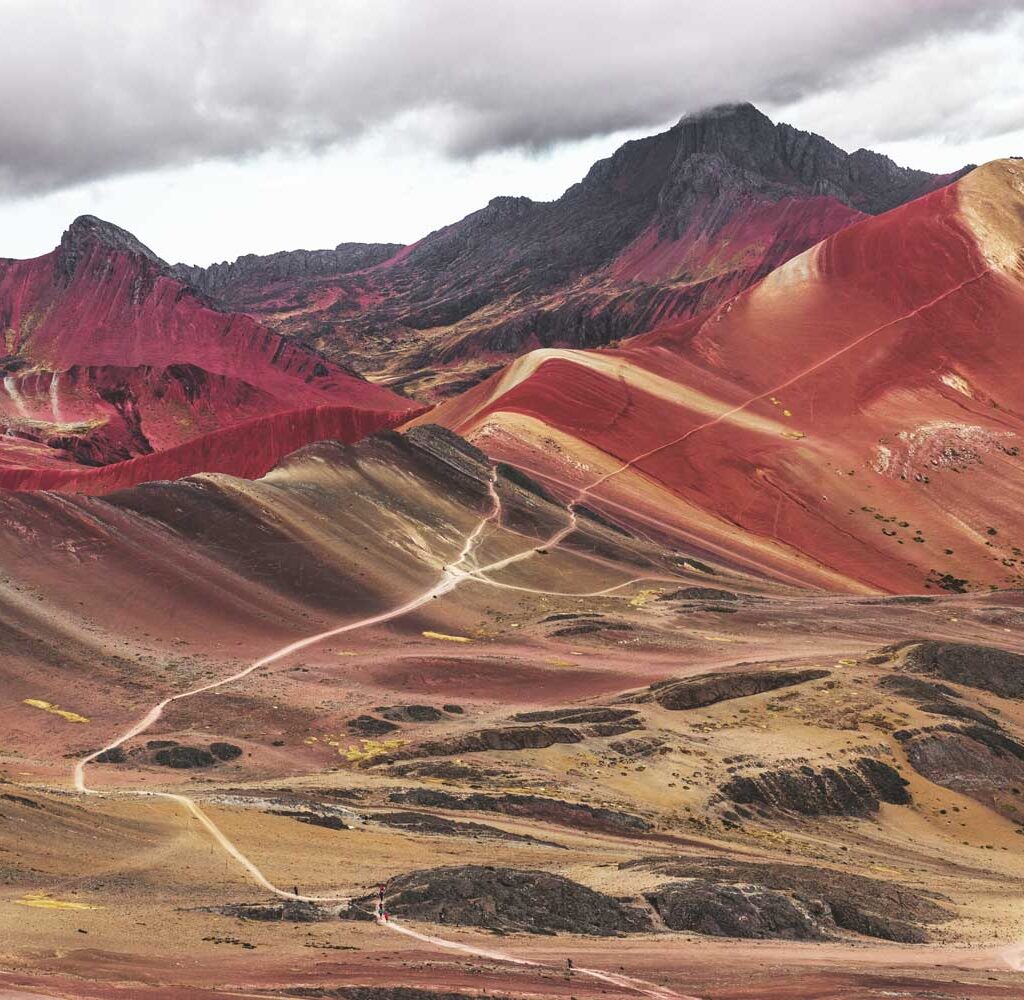 For clothing, wear layers, dress warmly (hat and gloves) and bring sunscreen. Only in the rain, walking shoes are a must. If it is dry, you can use your Nike. Bring some nice snacks (although breakfast is quite full), or a thermos with coca tea to enjoy the view. Finally, it's great to bring some money to tip the cooks and the driver.