The Salkantay Trek elevation and distance is very different every day and the standard route of Salkantay Trail is the northeast mountain range. Access to the route usually involves three days of hike from the city of Cusco.
The hike involves about 1,800 m (5,900 feet) of vertical gain, in glaciers, snow, ice and some rocks.
We are not going to climb to the top of Salkantay Mountain or Salcantay, but hike the Salkantay Trek 5 days / 4 nights, that's why we write details for the salkantay trek elevation and distance, because we consider very important for you to read and know this information.
Salkantay Trek Distance
If your are in good physical conditions, distances in this trek will be ok for you, check the information below to have an idea about it.
Day 1: From Mollepata to Salkantaypampa is 15 Km (9.32 miles)
Day 2: Salkantaypampa to Collpapampa is 22 Km (13.67 miles)
Day 3: Collpapampa to La Playa is 16 Km (9.94 miles)
Day 4: from La Playa to Aguas Calientes or Machu Picchu Village is 19 Km (11.81 miles)
Day 5: from Aguas Calientes to Machu Picchu is only 4 Km (2.49 miles)
Total Trek Distance : 76 Km (45,98 miles)
How long is the Salkantay trek?
The total distance of the Salkantay trail is 76 km(45,98 miles) and lasts 5 days and 4 nights. On the last day hikers will visit Machu Picchu.
Salkantay Trek Altitude
The altitude of our 5 days trek goes from 7,986 ft to 15,090 ft and each day during the trek the altitude change a lot because we are in the Andes.
First Day: Mollepata Elevation is 9,515 feet / 2900 meters and Soraypampa Campsite is 12,631 ft / 3,850 meters.
Second Day: Highest Elevation is in Salkantay pass 15,090 ft / 4,600 meters. Challway is 9,842 ft / 3,000 meters.
Third Day: Santa Teresa campsite is 7,055 ft / 1,811 meters.
Fourth Day: Aguas Calientes is 7,986 ft /2,050 meters.
Fifth Day: Machu Picchu is 7,972 ft / 2,430 meters and Huayna Picchu is with 8,924 ft / 2,720 meters.
Highest Elevation: Salkantay pass (15,090 ft)
Lowest Elevation: Aguas Calientes (7,986 ft)
Salkantay pass elevation
The Salkantay pass elevation is 15,090 ft.
Salcantay Elevation, Distances and Altitudes Map
This is the highest point of the Salkantay Trek 5 days trail to Machu Picchu, is called Salkantay Pass, the elevation is 15,090 ft above sea level.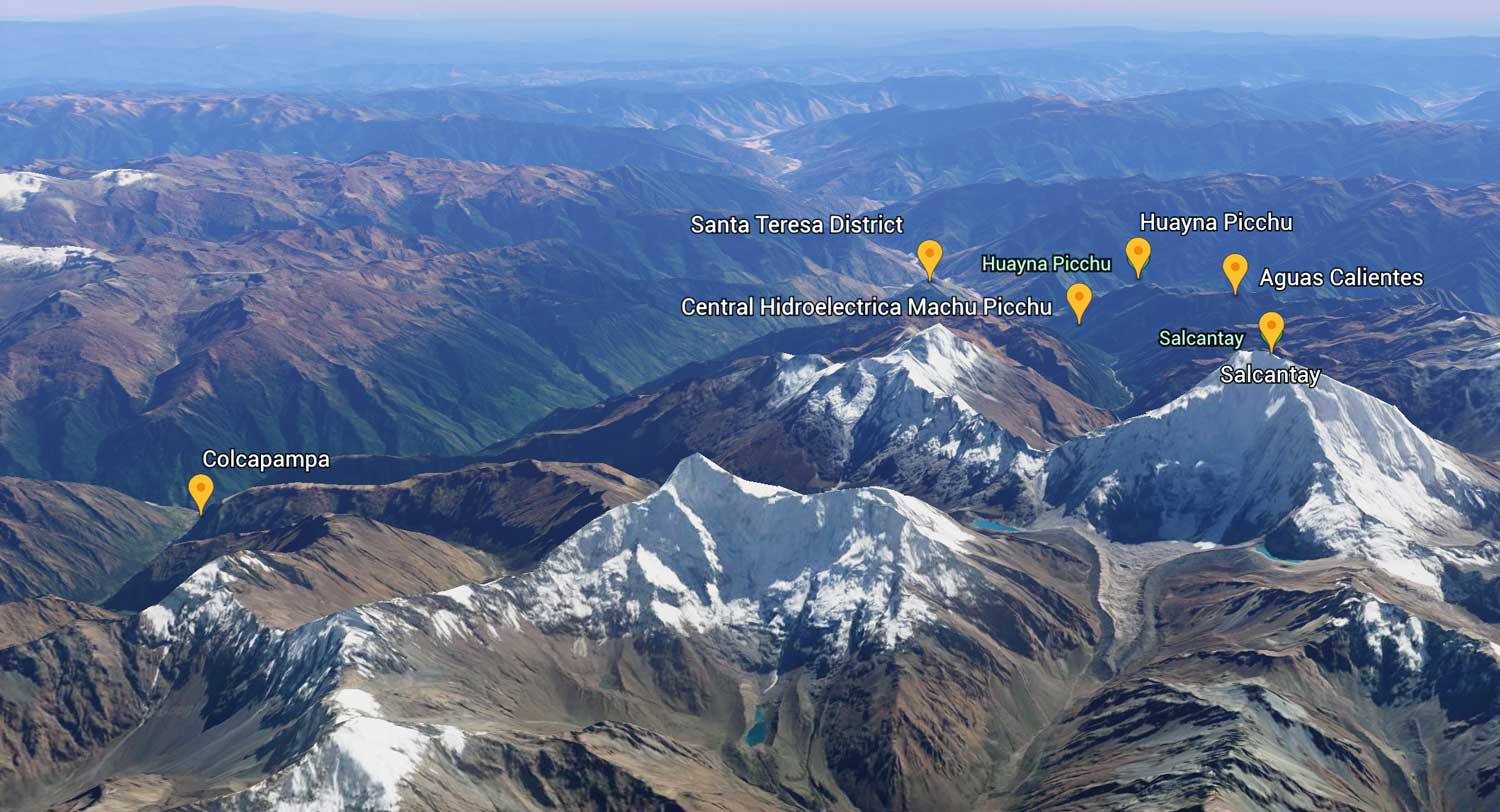 Don't worry about the elevation in this trek, why? Because The agencies have first-rate equipment and security protocols that guarantee that you will be well and will not give you the best advice you should follow in case of emergencies.
Salkantay Trek Difficulty
The Salkantay Trek difficulty is different every day, and like all treks in Peru, some are challenging, easy and moderate. The altitude of this mountain is higher than other mountains in Cusco – Peru, and that makes the second day one of the hardest one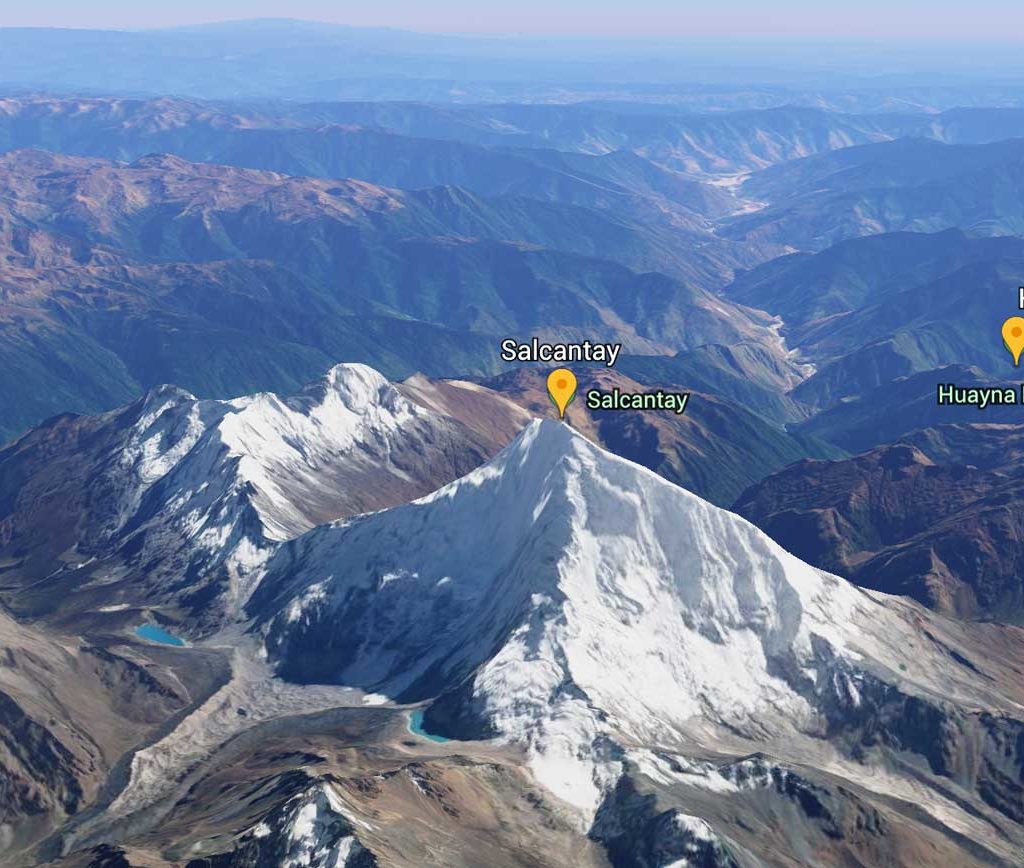 Classic Salkantay Trek to Machu Picchu Difficulty – 5 days
| | | | | | |
| --- | --- | --- | --- | --- | --- |
| # Day | 1 | 2 | 3 | 4 | 5 |
| Difficulty level | Moderate (15 km) | Challenge (22 km) | Moderate (16 Km) | Moderate (19 km) | Easy (4 km) |
How to be prepared for Salkantay Trek Difficulty?
Try to walk 10 km in a day or go to the gym one month before the tour because we will cover a lot of distance in the first 2 days. The good news is that everyone in the last years that started a walk has finished it! If you are really fighting, we have emergency horses that you can ride if you are not fit for the walk.
The second day of the trek will be the longest and the hardest. After an early breakfast, we will begin to climb a moderate climb for three and a half hours until we reach the Salkantay Pass (4,600 m / 15,092 ft). From this point, we can enjoy spectacular views of the second highest peak of Cusco. In the step, you can leave a piece of rock that is carried from the bottom as a gift for the spirit of the mountain.
How is the nights and sleep along the trek?
No matter what time of year, the trail cools at night (the altitude is more than 6000 m) until you reach Aguas Calientes. Bring a warm sleeping bag and put on your clothes. You will need a good warm sleeping bag. Where possible, we recommend that you bring your best sleeping bag.
If you plan to hire a bag, it is a good idea to bring a silk sleeping bag liner to use on the inside for extra warmth and comfort. A bag of four seasons (or -10) is recommended for the winter months.
At other times, it will probably be fine in a bag of 3 stations (or -4 / -5), although this depends on how much someone feel the cold and is administered only as a guide.
On the trip from Salkantay to Machu Picchu, we offer mats to roll up. However, for comfort and warmth, thermal-style mattresses can also be hired in Cusco for USD $ 15. If you travel in winter and do not want to invest in a season 4 bag, you can consider buying a bag of 3 stations plus a liner of sleeping bag and carry additional clothes.
How cold is Salkantay Mountain?
This mountain in Cusco – Peru is cold all the time, the highest point is the Salkantay pass (the altitude is 6372 m). 4 days of hiking is a classic, this trek always goes to Machu Picchu, because it is an alternative to the Inca Trail, and ends only in Aguas calientes (Machu Picchu Village).
Want to know more about Altitude? Check this video below.
How long is the Salkantay trek?
The total distance of the Salkantay trail is 76 km(45,98 miles) and lasts 5 days and 4 nights. On the last day hikers will visit Machu Picchu.
How cold is Salkantay Trail?
The first 2 days are cold, less than 10º Celsius, the Salkantay pass has an altitude of 4600 masl (15 100 feet) and in this part the temperature can be below zero degrees Celsius.