The Sun Gate at Machu Picchu is one of the five options for additional trekking in Machu Picchu, the others are Huayna Picchu, Machu Picchu Mountain, Inca Bridge, and Huchuy Picchu (from 2022).
In this post we are going to give you all the information you need about the Sun Gate in Machu Picchu, from how to get there, availability, what tickets to buy, what to bring, recommendations, and the best time to visit.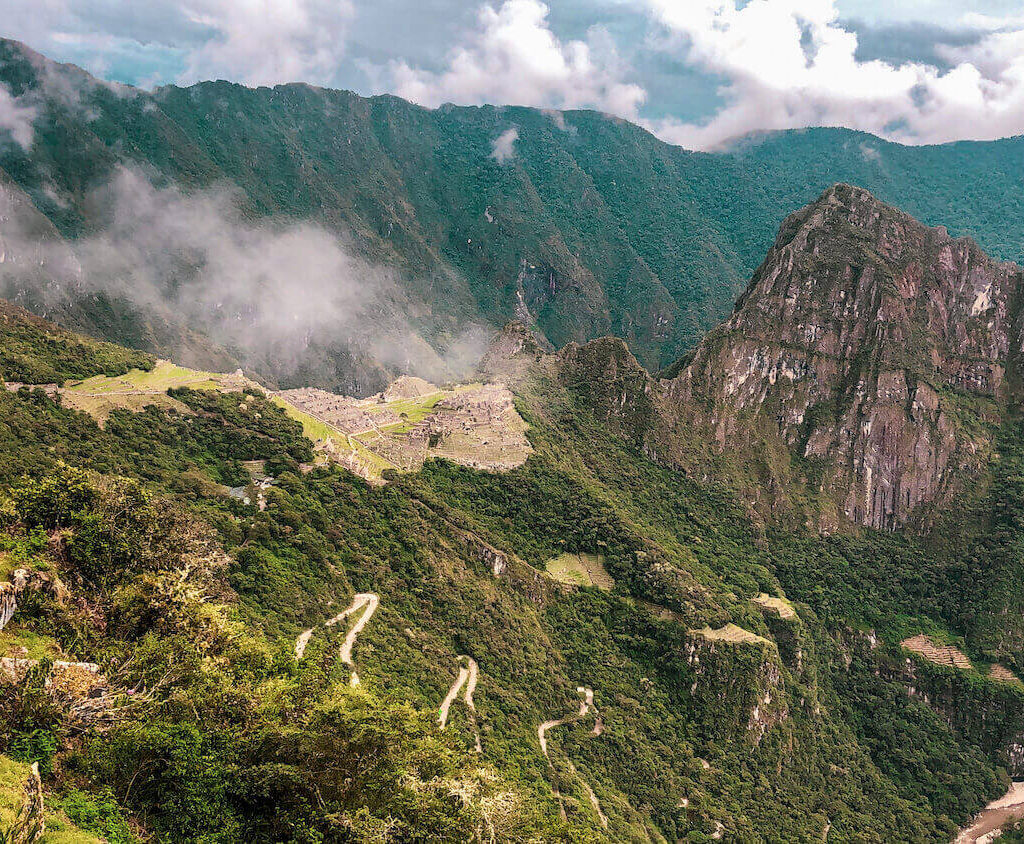 What is the Sun Gate?
The Sun Gate at Machu Picchu is located about 2,720 meters above sea level, also known as Inti Punku (in Quechua), is a viewpoint of Machu Picchu on one side of the Mountain Machu Picchu, is the gateway for adventurers who make the Inca Trail 4 days and 2 days.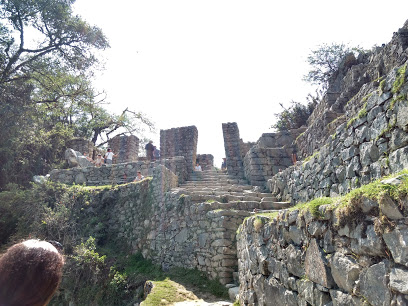 It is worth remembering that the Sun Gate is not exclusive to Machu Picchu, we can find another place of the same name very close to Ollantaytambo.
Details of the Sun Gate in Machu Picchu
Age restrictions: No age limit.
Height: 2,720 m / 8,924 ft.
Height Elevation: 290 m (951 ft).
Location: Located at the top, southeast of Machu Picchu in Cusco, Peru.
Trail Description: The Sun Gate follows a more gradual trail at no more than a 35-degree angle. As you get closer to the Sun Gate, the path becomes steeper and a bit more complex (the last 15 minutes).
Archaeological attractions: The terraces, Inca constructions, and the unparalleled Sun Gate,
Pros: You experience part of the original Inca trail and a wider view of Machu Picchu.
Cons: Elderly people will have more difficulties getting there.
Hiking time: Approximately 2 hours (round trip).
Difficulty: Moderate
Hiking distance: 4 km/ 2.48 miles (round trip).
Sun Gate Machu Picchu Map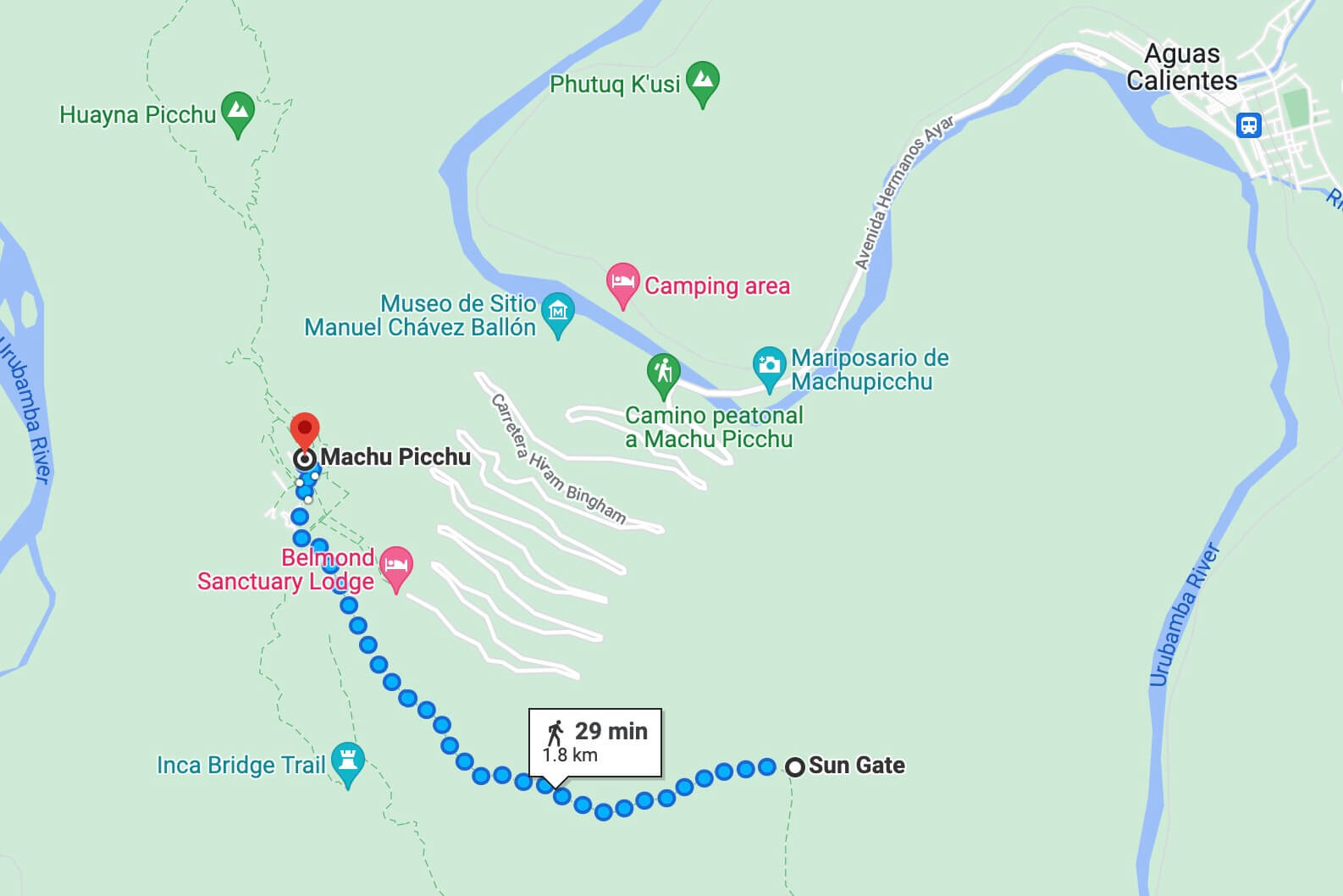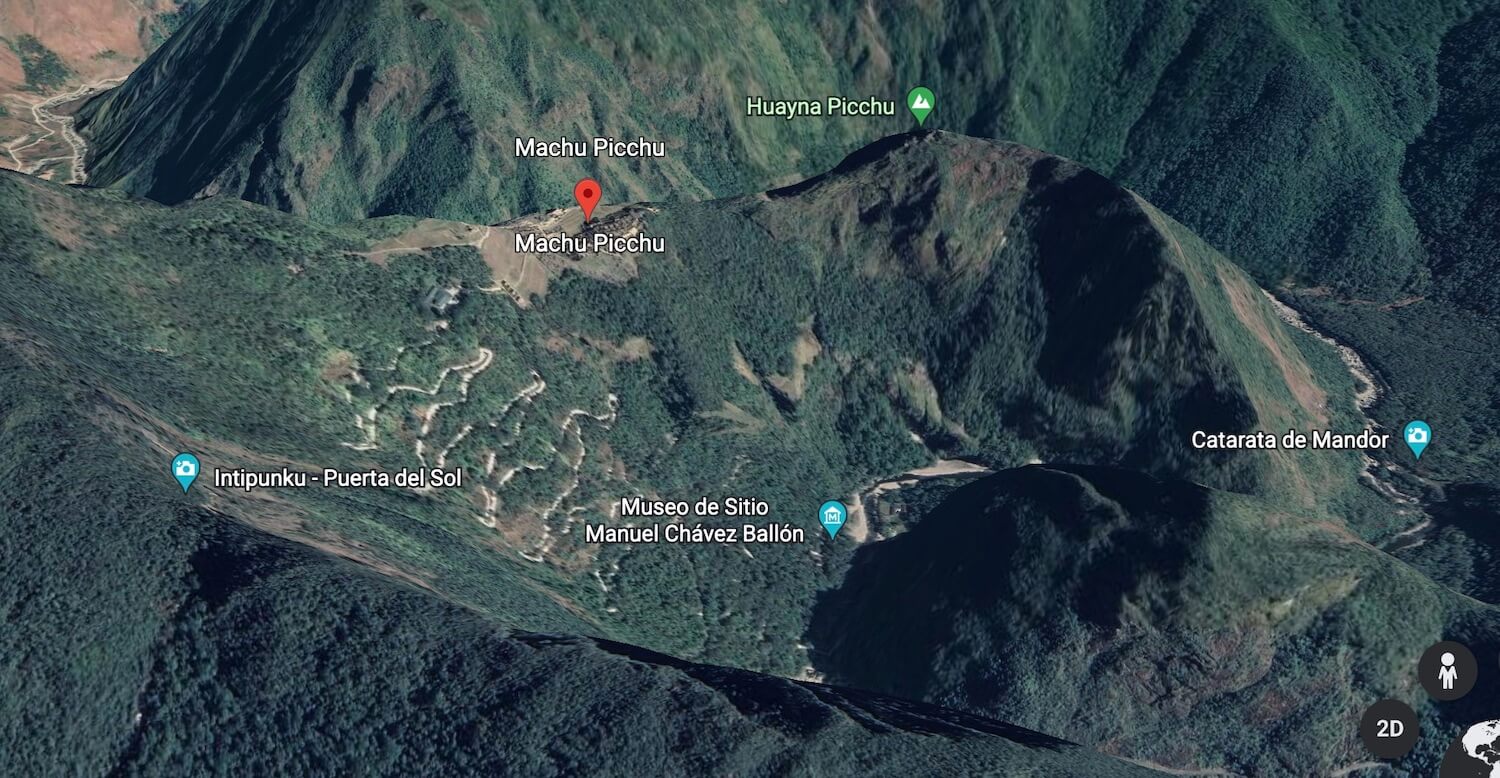 How to get to Sun Gate at Machu Picchu?
First, you will have to get a special ticket for this place, find more info at Tickets for Machu Picchu.
When you enter Machu Picchu, just follow the regular path where all the people go to the classic viewpoint of Machu Picchu (circuit 1) until you have that first initial view of the ruins of Machu Picchu and Huayna Picchu.
You should then turn left and follow the trail away from Machu Picchu past the agricultural terraces.
Look for the wooden signs that read "Inti Punku". As mentioned above, the hike is quite long, so a good level of fitness is required. A 2-3 hour hike (round trip) doesn't seem too bad, I agree, but don't forget that you are hiking at over 2500m.
This route you are going to follow is part of the 4 and 2-day Inca trails, so beyond Inti Punku, you won't be able to go as guards are guarding the archaeological site.
And what is beyond Inti Punku? There are several archaeological sites and the Inca Trail itself, but these require a special ticket that you can only buy from an authorized agency.
What kind of ticket do I need for the Sun Gate?
As of 2022, the route to Machu Picchu was modified, to go up to the Sun Gate, you need a permit exclusively for this place and another one for Machu Picchu.
You must visit first the Inti Punku and then the citadel of Machu Picchu, although this order is not strict, it is a good idea.
Weather
Being located in Machu Picchu, this has similar behavior, during the dry season, which runs from April to September, you can expect a dry climate and lots of sunshine.
The average annual temperature is about 16°C, but it can reach 25°C at this time of the year. Due to the altitude, it feels even warmer, so be sure to protect yourself with the proper use of sunscreen.
Although it may seem strange, in the mornings it can be very cold (even down to -2°C), so it is essential to wear several layers of clothing.
During the rainy season, from October/November to March, the trails can be a bit slippery and you should watch your step twice.
Best time to Hike to Sun Gate at Machu Picchu
The best time to visit Puerta del Sol and Machu Picchu is shortly before or after the high season (May, June, or September, respectively).
For more information, we recommend that you consult our post on the Best time to visit Machu Picchu.
Recommendations
To be very well prepared for this trek, we recommend that you are in good physical shape and already acclimatized to the altitude.
Many people suffer from altitude sickness because they have not acclimatized properly after arriving in Cusco.
Although the hike to the Inti Punku Sun Gate is not as steep and narrow as the hike to Huayna Picchu, do not forget that you are walking at a high altitude level.
Symptoms of altitude sickness can be headaches, nausea, shortness of breath, etc., something you do not want to experience during your vacation.
Having the right clothing is crucial to make the most of your visit to Machu Picchu. We recommend that you wear several layers (heavy duty t-shirt, a light fleece, zippered hiking pants), carry a small backpack, wear hiking shoes, bring sunglasses, a hat, sunscreen, insect repellent, and a rain poncho (for the rainy season).
Hire a guide to do it, you will have a more pleasant experience and you will know what you are seeing, what you are stepping on, and what things were built for.
Read our guide to the Best hiking shoes for the Inca trail.
Sun Gate at Machu Picchu – Is it worth it?
Absolutely, yes it is! The view you get from Machu Picchu is breathtaking and the hike is beautiful, you just need stamina and take your time.
You will have an expeditionary view from this point.
If you have time to hike to the Sun Gate, you should do it.
Few tourists visit this place, only those who hike the Inca Trail, as it is the only entrance for them.
What to bring for the hike?
Water bottle, at least 2 liters of water.
Insect repellent.
Sunblock, hat, and sunglasses
Trekking poles with rubber tips, others are not allowed.
Raincoat.
Camera.
Entrance fee.
History
In ancient times, in the full operation of Machu Picchu, the Incas used it as a control gate for people entering and leaving the sacred city of the Incas. Due to its strategic location, it also served as a point to see the entire valley and control that only authorized people could enter the citadel, which is why many historians believe that Machu Picchu only received people from the elite of the empire.
The construction of Inti Punku and the citadel of Machu Picchu is attributed to Inca Pachacutec.
The construction of the Sun Gate is dedicated to the sun. During the summer solstice, the rising sun passed through the Sun Gate every year. People returning after seeing the sacred city were treated with special respect by the people on their way to Machu Picchu.
Faqs
How high is the sun gate at Machu Picchu?
The altitude of Sun Gate in Machu Picchu is 2,720 m / 8,924 ft. The elevation gain is 290 m (951 ft) from the citadel of Machu Picchu.
Is Sun Gate Machu Picchu open?
The Sun Gate of Machu Picchu is currently closed (2022), the opening date is not yet known.
Can you hike to the Sun Gate in Machu Picchu?
Yes, you can hike, the hike is not strenuous, it is easy to medium level.
How far is the Sun Gate from Machu Picchu?
The distance from the Inca citadel of Machu Picchu to Sun Gate is 1.8 km (1 mile), it takes about 1 hour to 2 hours round trip.
Is hiking Inti Punku worth it?
Of course, you will have a different view of Machu Picchu and a unique view that only few have such an opportunity.